End-user // We now launch our square wall bracket for the System 100 Series
New Wall Bracket for System 100
We now launch our square wall bracket for the System 100 Series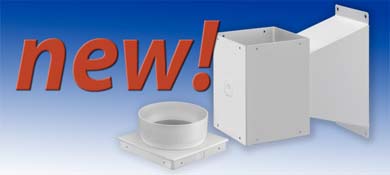 With this new bracket, we gain the same flexibility in System 100 for the hanging mounted extraction arms as recognized from our other systems. A flexibility that offers advantages in both mounting and keeping in stock.
The new wall bracket mounts the ceiling mounted (CM) extraction arms.
Simple connection to duct
The reducer to Ø125 mm included makes the connection to the ventilation duct simple and quick. Push the reducer on the connection piece on the top of the bracket. and connect the ventilation duct directly to the reducer. This gives a nice and solid connection that will not add innecessary pressure loss as e.g. a flexible duct connection.
With this bracket, we wanted to simplify the wall mounting of our extraction arms in System 100. We also intended to create a solid an easy to clean bracket. This we have gained with the closed sides and the square design.
The new wall bracket is already in stock with the article no. 2-100-203 in colour white. Black colour will be available on request.
Our wall mounted extraction arms in System 100 and the matching round wall bracket will continue in our product program for now.